Turbo cover, view outside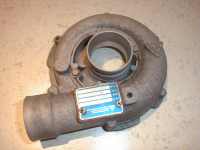 Turbo cover, view inside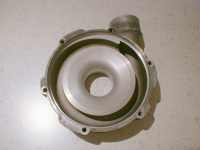 Wastegate cover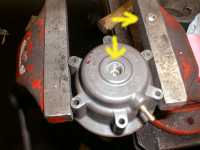 Turbocharger
The turbocharger of my car is running without any problems, so I haven´t dealt much with this topic. Only thing that I have done wrong is that the whole charger felt on the floor while I tried to clean it. The high was not that much, about 10cm. But this was enough to crack the alloy cover. We managed to get an used one from an KKK24 and we toke the outer ring of this one. With the inner ring of the original cover we built a cover that worked again, but now I miss 0,2 bar pressure. For I have a 2nd ur for parts now i can take the cover of this car. I will do this work soon, i hope i will get the 1,9 bar original pressure back.
I changed the cover on the 22/06/2000, i am very sorry that the low pressure is still there. Its round about 1,7 bar, where have the 0,2 bar gone that are missing???? Next thing is to check the wastegate..........
Wastegate
To raise the pressure i removed to cover of the wastegate and drilled out the little plate which blocks the adjustable screw. I put it all back together and turned the srew slowly, always looking at the final pressure while driving. Now the max. pressure is at 1.88 bar, i will check how high i can go without destroying my engine. Any idea????
Turbo from downpipe side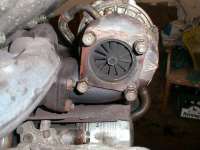 front side , cover removed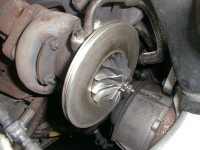 Open wastegate